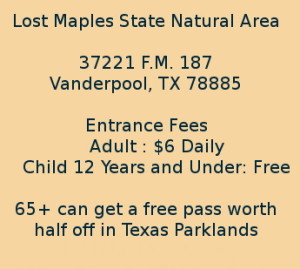 Lost Maples State Park is the best known place in central Texas for pretty fall foliage, although it doesn't happen every year. At about 180 miles from Georgetown, it's a bit far to try to drive to, hike through, and then drive back in one day. We drive to Kerrville, spend the night, make the hour's drive to the park early the next morning, see what we want to see there, then drive back home that second afternoon. We generally make the drive from Kerrville to the park via the southern route, then return through Kerrville by the route that takes us along the Guadalupe River. In a good fall foliage year, it's possible to see a lot of red and yellow in the park, then see a lot of golden-brown cypress along the river on the return.
We did not make the trip in 2014 because the foliage reports weren't that good. But we hit it very lucky in 2013, arriving on a cool, misty day that really brought out the fall colors.
(For driving directions, if you're trying to get to a marker location, click on the marker, copy the gps coordinates, then paste them in the "To" field.)
The map could not load.
This is normally caused by a conflict with another plugin or a JavaScript error that is preventing our plugin's Javascript from executing. Please try disable all plugins one by one and see if this problem persists. If it persists, please contact nick@wpgmaps.com for support.