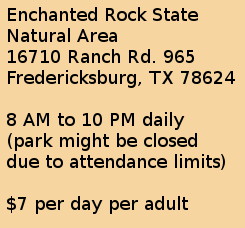 Enchanted Rock is one of several local geological wonders. Located about half-way between Llano and Fredericksburg, it's a little over a two hour drive from Georgetown. One way to do it is to set out around 9 AM, drive to Llano for an early barbecue lunch at either Cooper's or Inman's, then head for Enchanted rock, about another 40 minutes away. Note that this schedule will get you to Llano around 11 AM, and there is a reason for that: Cooper's and Inman's tend to get really crowded a little before noon. But do not stuff yourself, tempting though it is, because…
The attraction at Enchanted Rock State Natural Area is a huge granite dome, 425 feet high, and the main thing to do there is to walk up that dome. That's about 42 stories. I've done it twice, now, taking about an hour and a half, including some photo taking at the summit, and also including many stops to catch my breath. My wife said she did not lose anything up there her first time, so she sees no need to repeat the climb.
As one expects, there is quite a view from the top of the dome. There are shallow depressions in the dome that often have water in them, and that water often has plant life in it. But I am not going to try to tell you that Enchanted Rock is beautiful, except in the sense that geological wonders are perforce beautiful, perhaps. There are often wildflowers here and there, the seeds having found a grip in a crevice which perhaps has trapped blowing sand.
If you got to Enchanted Rock by taking TX 16 south out of Llano, then consider a return to TX 16 and drive four miles further south to Willow City Loop. There is an official highway sign pointing it out. (Note that RR 1323 further along TX 16 is a more direct route to reach Willow City. We want to see the terrain along the Willow City Loop, not see the fine township of Willow City.)
The Willow City Loop is a famous drive in wildflower season, and justly so. Unfortunately the rains have not cooperated in the last several years (although I have high hopes for 2015), but it has been spectacular many times in past years. (And therefore also crowded during wildflower season, even on weekdays. If you can make the drive on a weekday, don't even consider coming on a weekend.) So why am I recommending it out of wildflower season? Well, it has some fine Hill Country terrain, showing off several different examples of such along a fifteen mile drive. Besides, you have to come back home from seeing Enchanted Rock, and I have another attraction in mind for the route home.
When you reach Willow City, continue straight on what will now be RR 1323, and follow that road all the way to US 281, just north of Johnson City. Turn left towards Marble Falls and Burnet. Stop at the Bluebonnet Cafe in Marble Falls for pie! (Closed on Sundays after about 2 PM, and they do not take credit cards. Also try to get there in mid-afternoon, or there will probably be a line out the door.) Then head for Burnet, hang a right on TX 29, and come home (to Georgetown – too bad if you live in some lesser place).
(For driving directions, if you're trying to get to a marker location, click on the marker, copy the gps coordinates, then paste them in the "To" field.)
The map could not load.
This is normally caused by a conflict with another plugin or a JavaScript error that is preventing our plugin's Javascript from executing. Please try disable all plugins one by one and see if this problem persists. If it persists, please contact nick@wpgmaps.com for support.